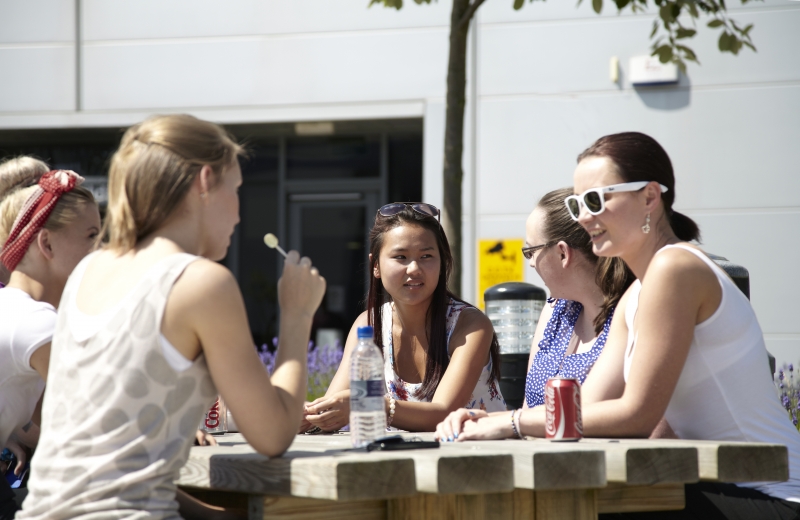 We are proud of the social and cultural diversity of our community at New College Durham. It is a strength that inspires innovation, creativity, and compassion.
Our college is a place of learning and working, for everyone. A place that advances equality of opportunity, celebrates diversity, and empowers everyone to achieve their fullest potential.

We promise to:
embed equality and diversity into all our practices.
advance equality and diversity.
celebrate diversity and difference.
tackle all forms of discrimination.
educate staff, students, and our community, actively and consistently working to build and maintain an environment that is safe, empowering, compassionate, and fair.
What does equality, diversity and inclusion mean to our staff and students?
We are all humans but we are not the same.
Every individual should have an equal chance to make the most of their talents, capabilities and endeavour; and no one should have poorer life chances because of where, what or to whom they were born.
We should all be treated with equal respect and have equal access to services, including education.
Equality is not about forcing equality upon people but giving people the chance to be equal and in some cases this means treating them differently.
What have we been doing in College?
Equality and Diversity is central to what we do and not an 'add-on';
It is more than words it is actions!
Our practices and services are legal, accessible and fair to all learners, service users and employees;
We are a Disability Confident Leader.
Have achieved Better Health at Work Award (bronze) now working towards silver.
We have signed up to the County Durham Pledge of being committed to supporting the health and wellbeing of our students and staff.
Single Equality, Diversity, and Inclusion Scheme
We will meet our legal duties under the Equality Act 2010 to promote equality by;
driving the agenda at the highest level.
developing and raising awareness across the organisation.
sharing good practice.
working with learners, staff, and external partners to address any barriers to full participation.
monitoring, measuring, and evaluating the impact of Equality and Diversity policies, and practice.
pdf Equality Diversity and Inclusion Policy (207 KB)
pdf Single Equality Scheme 2020/21 including objectives for 2021/22 (145 KB)
pdf Equal Pay Audit (245 KB)
pdf Gender Pay Report (193 KB)
pdf Pledge to the Armed Forces Covenant (236 KB)
pdf Mental Health and Wellbeing Strategy 2021/22 (181 KB)
pdf Modern Slavery and Human Trafficking Statement (315 KB)
Website accessibility statement
New College Durham is committed to providing web pages that are accessible to all users.
The NCD website aims to meet a minimum of WCAG 2.1 AA compliance in line with the Web Accessibility guidelines (WCAG 2.0) standards.
Documents on our website, such as policies, are being replaced as PDFs in a format that meets accessibility standards.
Please contact the us if you have any issues with accessing the information on this website or if you wish to provide any feedback.
When websites are designed, developed and edited, all users can have equal access to the sites' information, functionality and benefits. We aim to make our website accessible and usable for people of all abilities and disabilities.
We aim to audit our website every six months and resolve any conflicts that may have arisen since the last audit.