T-Level in Construction
Marc progressed to become a Trainee Site Engineer with his industry placement employer, Bowmer + Kirkland.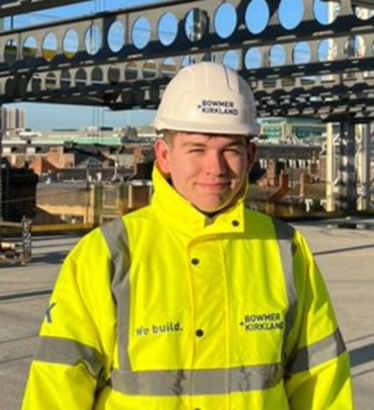 Marc wanted to develop his knowledge and skills to work on a building site, he said:
"The T-Level in Construction at NCD really helped me with understanding the basics of construction and the operations of a construction site.
"Learning about the different roles within a construction team and different kinds of projects allowed me to choose the path I wanted to go down. Originally, when I started the course, I wanted to become an architect. This changed as I learnt more about the industry and completed my industry work placement at Bowmer + Kirkland doing design management.
"Bowmer + Kirkland allowed me to experience different areas within the company, outside of their design team. I knew I wanted to progress in construction to become a Site Manager. I applied for a degree apprenticeship with B+K and was delighted to be successful and accepted.
"I am currently a Trainee Site Engineer working on the Bank House site in Newcastle City Centre. As a trainee, I go to Teesside University one day a week on their part-time construction management degree course, to gain an understanding of the theory side of construction to then implement when I'm on site."
Bowmer + Kirkland were enthusiastic about Marc's contribution to the team:
"Marc is a great asset to our company and continues to work hard both on site and at university. He has become an integral part of the team. Definitely a T-Level success!
"We cannot recommend T-Level industry placements enough. We're pleased we were able to give Marc the opportunity to experience a project from different roles within construction to help him made an educated decision about his future."