New College Durham's first cohort of T-Level students are celebrating an astounding success having all completed and passed their T-Level qualifications. They join the college's A-Level and BTEC Level 3 students in celebrating today for the first time.
New College Durham were amongst the first group of colleges in the country to launch the T-Level qualification in 2020, so is one of only a small number of FE colleges celebrating T-Level success today.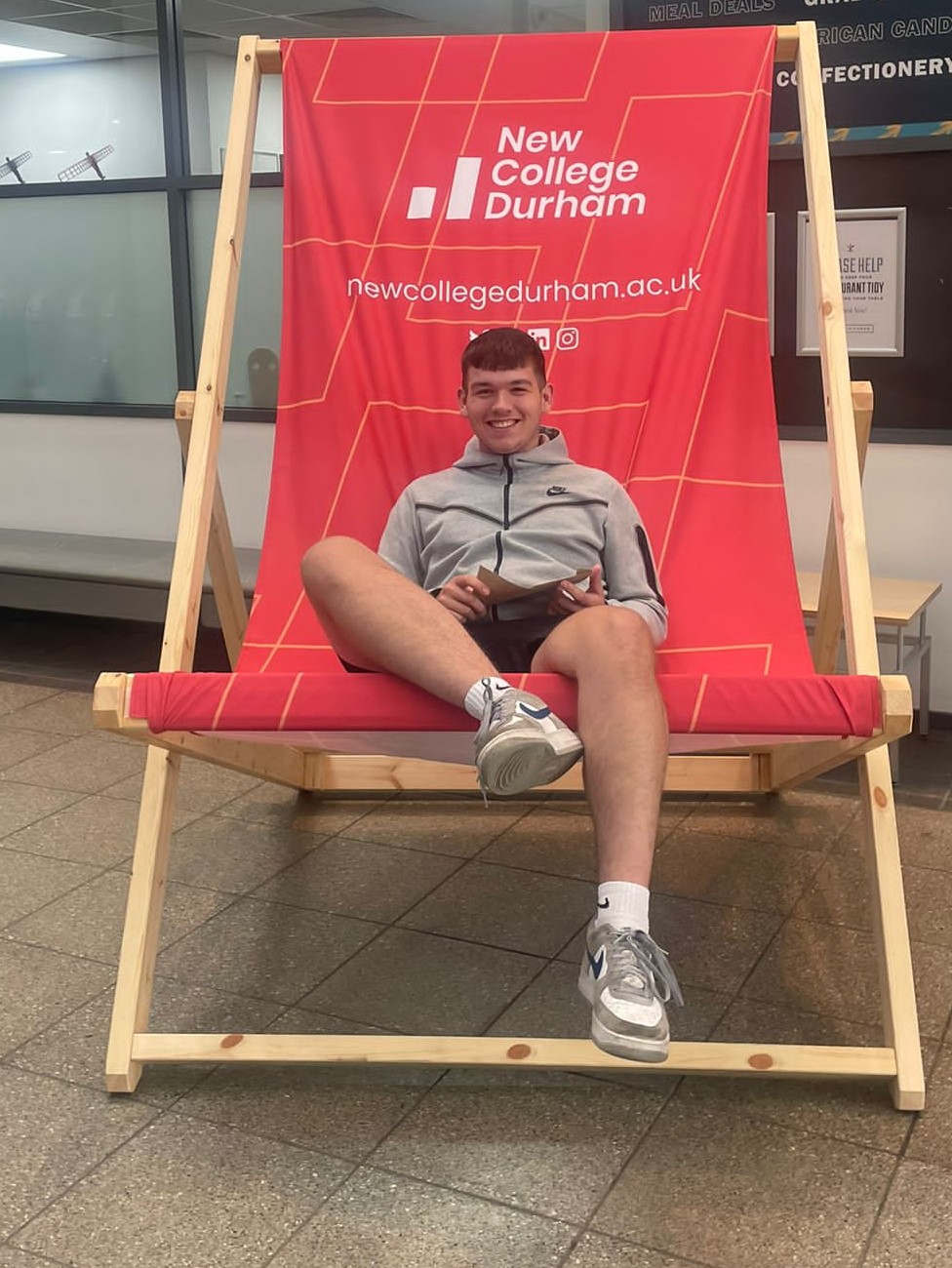 Mark Surtees achieved a distinction in the Design Surveying and Planning for Construction T-Level. He has secured a higher apprenticeship in site engineering with Bowmer and Kirkland. He comments: "The T-Level is a more focussed option where you can choose what you want to do. I went on my work placement with Bowmer and Kirkland where I got to do a bit of everything. I then chose to go with the site engineer route."
All New College Durham T-Level students have secured their chosen next steps. Students are heading into a mix of full time employment in their chosen sector, higher apprenticeships or continuing with further study including degree level study at York University, Northumbria University and New College Durham University Centre.
Kieran Allakar completed a T-Level in Digital Production, Design and Development and commented: "I really enjoyed the work placement I completed as part of the T-Level. I worked at Infinity 27 in Gateshead. As part of this placement I gained experience of making games and creating virtual tours".
New College offered all three T-Level pathways during the first year: Design Surveying and Planning for Construction, Digital Production, Design and Development and Education and Childcare. They also continue to offer new T-Level pathways as they become available with 19 different T-Level subjects currently available at the college.
A-Level students from the college are also celebrating having achieved a 100% pass rate in 16 A-Level subjects and a 99% pass rate overall. These results come in the first year of A-Level students being back to sitting exams following the pandemic.
John Richardson achieved 3 A grades in Physics, Maths and the Extended Project Qualification, along with a B in Biology. John comments: "I'm going to study Physics at Newcastle University. The best thing about my time at New College was the teachers. If you ever needed help you could always get in."
Sophie Irbind who also studied A-Levels agreed: "The support was the best thing about the college. There was an unmeasurable amount of support from both teachers and the Personal Learning Coaches." Sophie is also heading to Newcastle University having achieved 2 Bs and a C.
Andy Broadbent, Principal and Chief Executive at New College Durham comments: "As a college we recognise the fantastic achievements of all our students on this level three results day. Across T-Level, A-Level and Vocational Technical Qualifications, all students have worked extremely hard and have demonstrated exceptional resilience and commitment throughout their studies. It's fantastic to see them celebrating their achievements and grades today. We are so proud of the work they have put in and their amazing achievements!
"We also recognise the exceptional support our students have received from the college teaching and support staff. It has been an extremely challenging time, but our staff have gone above and beyond to ensure students could catch-up following COVID. They have supported students unconditionally from both an academic and emotional perspective. It's fantastic for them to see the achievements of our students today."