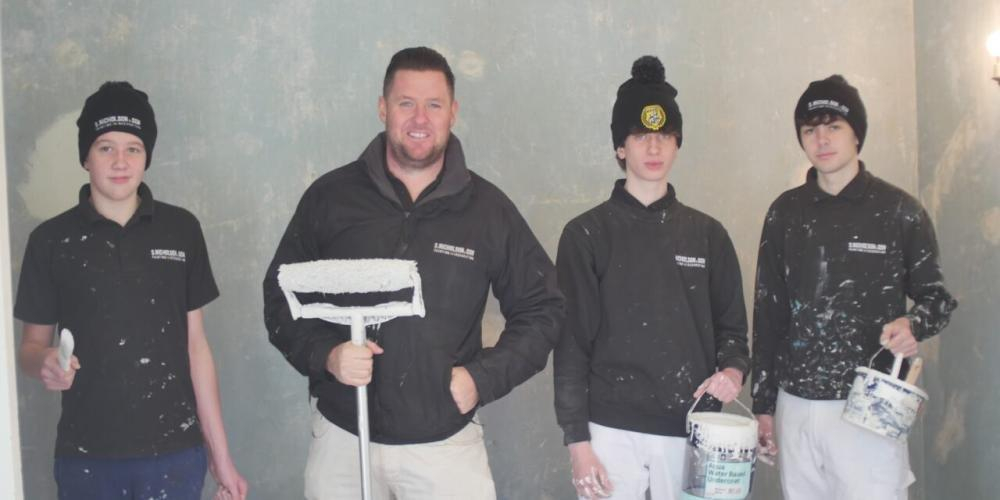 Local Bishop Auckland-based painting and decorating company, S Nicholson & Sons, recruited three new apprentices to meet the rising demand for bespoke painting and decorating services.
Managing Director, Stephen Nicholson, said:
"We have always championed apprenticeships and I am over the moon to find three good quality apprentices through New College Durham that are willing to get their hands dirty and learn the trade.
"The main reason we use apprentices rather than recruit from other firms is that other firms don't specialise in prestigious and listed buildings. In the long-term, it's easier to pass on such traditional skills to an apprentice."
Stephen, who set up the business in 2008, specialises in the restoration of heritage and listed buildings, including Raby Castle, Rockliffe Hall and Hallgarth Manor. He feared young people viewed painting and decorating as outdated and expressed his excitement to train the trio.
Jake Mitchell from Ferryhill, Jack Blenkinsopp from Spennymoor and Stephen's son, Stephen Nicholson Jr, from Bishop Auckland will learn to complete modern techniques, as well as the traditional craft passed down through the generations.
The lads were keen to get started, Jack commented:
"I'd recommend becoming an apprentice to anyone. Every day, I'm working hard towards mastering new skills and it really is an interesting ad worthwhile career."