The alliance aims to primarily work with four to 30-year-olds from across County Durham – whatever their background or interests – to offer them the opportunity to connect with, and learn from, other people around the UK and the world. The partnership should make coordinating activities more effective, utilising the best of their available resources, as well as measuring progress more comprehensively.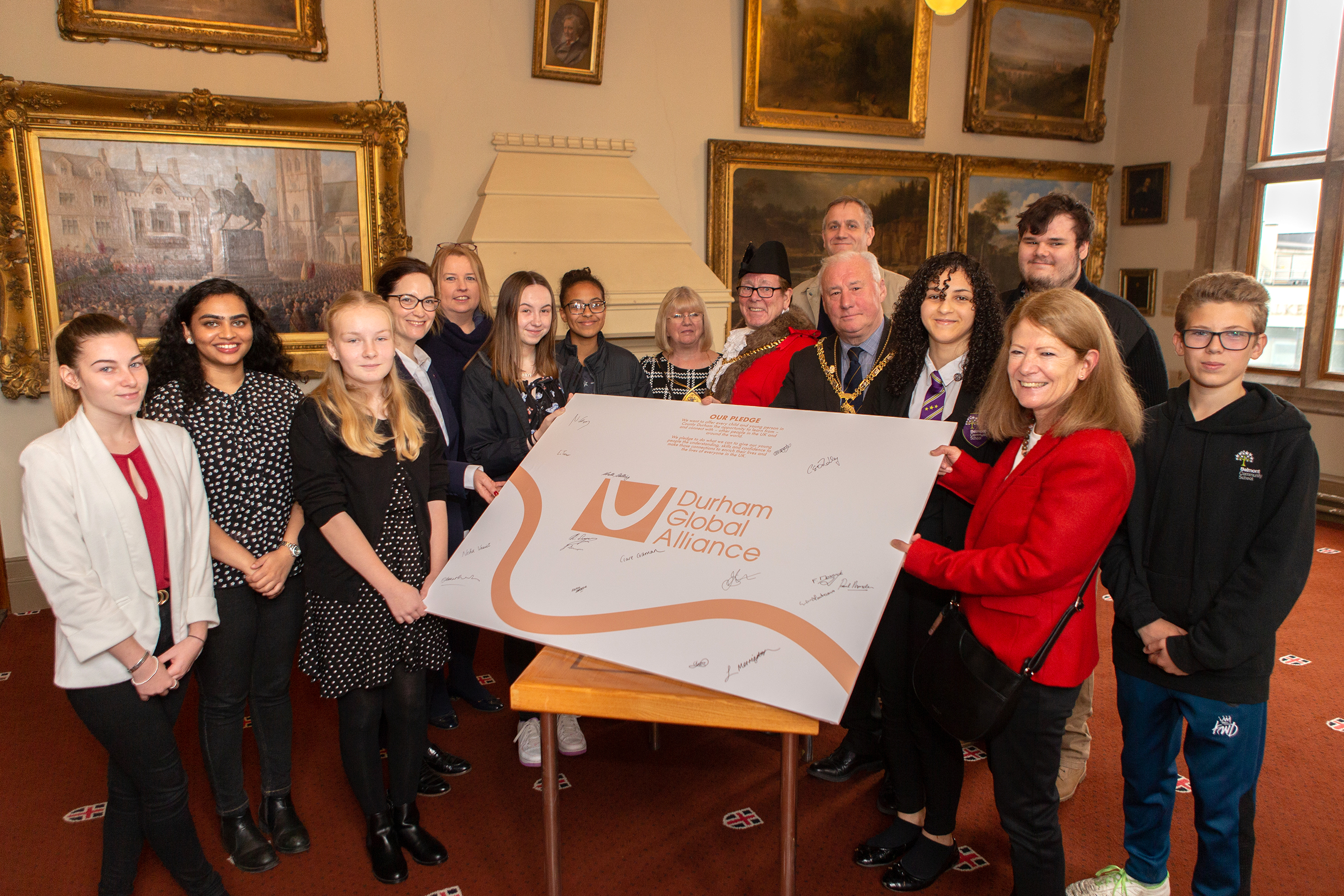 Our Level 3 Graphic Design students completed a live brief to design the Durham Global Alliance logo for their launch event. In just three weeks, the group researched, developed and designed a logo and presented it to a panel of representatives from Durham University and Durham County Council. The panel was very impressed with the high standard of work that was presented and a they selected a winning design and two runners up.
The chosen logo design was by Nathan Eddy, with Dylan Wickers and Abby Johnstone as the runners up.
Congratulations to Nathan – his logo was revealed at the Durham Global Alliance launch event over the weekend at Durham Town Hall, by the Mayor of Durham, Cllr Arnie Simpson, and the Chairman of Durham County Council, Cllr Watts Stelling.
Nathan said:
"When we were first given the design brief, I thought it was going to be difficult to create a logo that was linked to Durham but universal at the same time. I thought about the river icon and how I could use the River Wear to be universal and abstract while also symbolic to Durham. I'm so honoured that my logo is on a live brand, and it is also part of my hometown. I am so proud of myself and what this organization represents."
Clare Coltman, International Business Development Manager, said:
"New College Durham is delighted to be a part of the Durham Global Alliance Steering Group, and will use the opportunity to represent students from the further education sector. As a college, NCD is committed to raising the global awareness of our students and we are looking forward to being able to offer our students the opportunity to take part in the events and activities the alliance will organise over the coming years. We are so proud of Nathan for producing the chosen winning design for the Durham Global Alliance logo."
To find out more about the DGA, visit International Durham