We would like to say a huge congratulations to HNC Construction and the Built Environment student, Liam Nellis, for receiving the Student of the Year Award at the Constructing Excellence in the G4C North East Awards.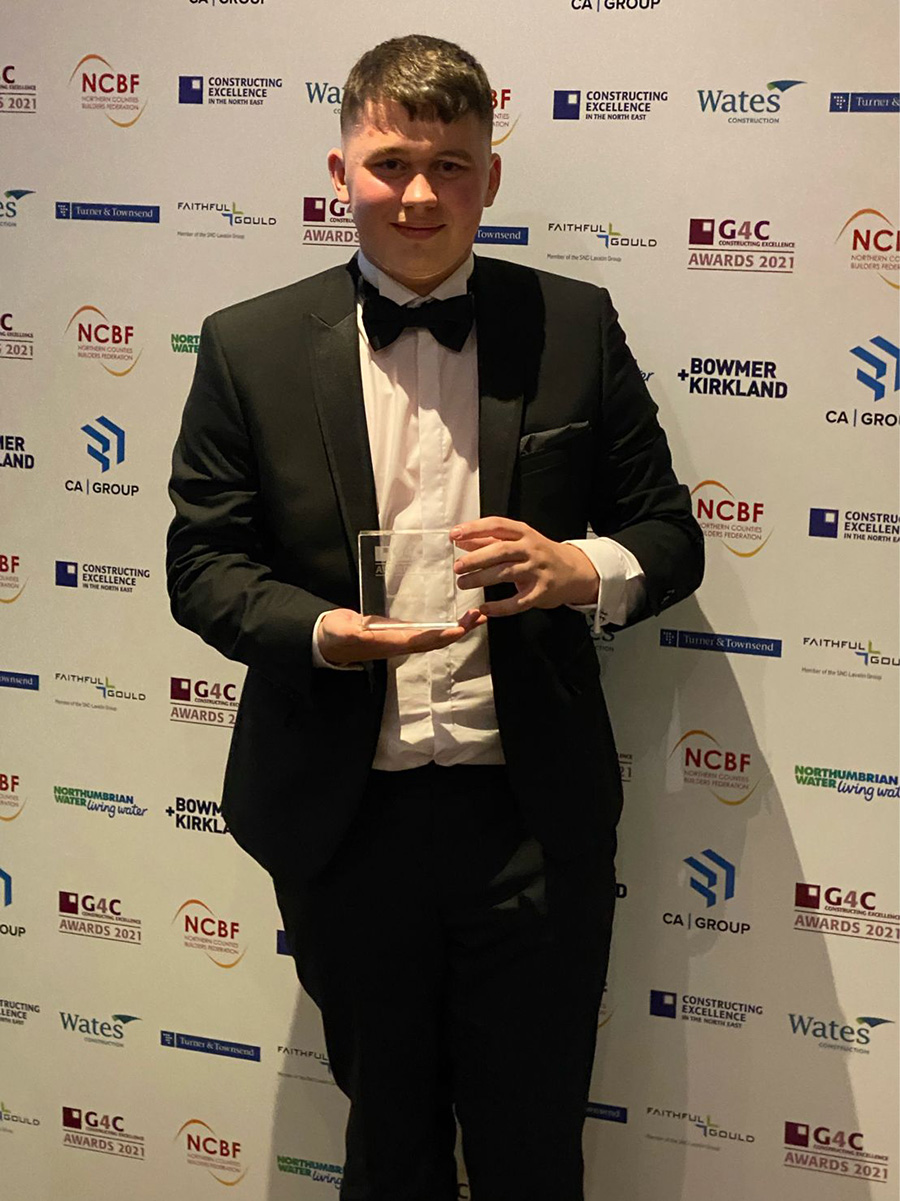 Liam completed our Level 3 Construction and the Built Environment apprenticeship programme and is currently in his second year of studying as a HNC Construction Design and Build Technician with his apprenticeship employer, Howarth Litchfield – a world class Chartered Architecture Practice.
Keith Handy, Director at Howarth Litchfield, enthused:
"Howarth Litchfield are really proud of Liam and the recognition he received at the recent G4C Awards scooping the 'Student of the Year' prize. Since he started with us as an apprentice technologist back in July 2019, he has risen in confidence and continually surprising us with the level of aptitude he brings to his role.
"Liam is continuing to exceed all of our expectations and along with the valuable knowledge he is gaining at New College Durham on his HNC in Construction course supported by his tutors. We are very much looking forward to supporting Liam with his continued studies and career progression at Howarth Litchfield."
Liam is one of the first cohorts of Institute of Technology students, and has benefitted immensely from the facilities and industry standard equipment that has become available as part of the recent NEIoT development.
David Pickersgill, Director at Howarth Litchfield, commented:
"I had a fantastic night at the G4C North East awards, well done to our very own Liam Nellis for winning Student of the Year. Congratulations from all of us at Howarth Litchfield and thanks to New College Durham for being part of his journey with us."
New College Durham HNC Programme Leaders, Andrew Simpson and Jenna Allen, were kindly invited to the awards and were over the moon when Liam was announced as the winner.
Andrew Simpson, HNC Construction Programme Lead, said:
"It was a great night! Liam has continually shown a strong professional and ethical attitude towards his studies, peers and staff. Very well done to Liam - it was lovely seeing so many deserved winners and networking. The future for the newly skills construction workforce is looking very bright indeed."
Jenna Allen, Higher Level Technical Skills Manager, commented:
"Liam is a very focused and motivated young professional. He consistently produces work of an excellent standard and his dedication to his studies around personal commitments is admirable. We have no doubt that Liam will continue this success throughout the remainder of his course and career. We are extremely proud to be part of Liam's journey"